INVERTER DUCTED
Available in

Reverse Cycle (Heating & Cooling)

Capacities

7.1kW, 10.0kW, 12.5kW, 14.0kW, 15.5kW, 18.0kW, 19.5kW, 23.5kW

Refrigerant

R410A

Efficiency Version
Engineered to deliver a compact and efficient design, our Inverter series is ideal for installation into the tight roof space of any modern home.
All Daikin air conditioners exceed MEPS requirements, in line with Daikin's commitment to providing energy efficient, quiet, simple to use and reliable air conditioning solutions.
Key Features
It's the unique features of Daikin products that makes us the world leader.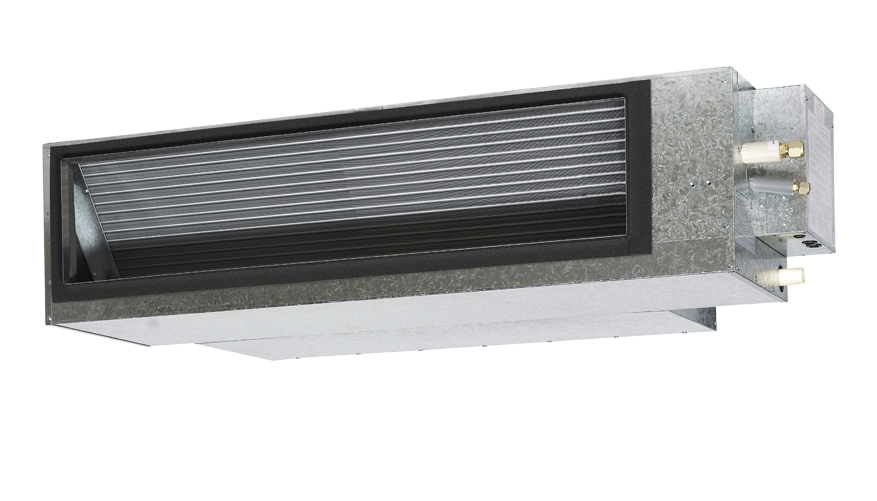 Compact Size

140 and 160 Class is now housed in a compact indoor casing for easier installation.

15 Fan Settings

15 different fan speed settings to suit your ductwork configuration.

Improved Energy Efficiency

Achieved through the use of a DC Fan motor, cross-pass heat exchanger and increased outdoor coil passes.

Australian Made

Indoor units are specifically designed and manufactured to Australian standards to withstand the harsher summer climate.

Night Quiet Mode

Reduces the outdoor noise levels during sleeping hours and automatically resumes normal operations in the morning.

Inverter Technology

An inverter system works like the accelerator of a car, gently increasing or decreasing power. They reach the desired temperature quicker and steadily maintain it without fluctuations.
Daikin's 5-year parts and labour warranty applies to split, multi split and ducted air conditioners purchased and installed in homes across Australia
INVERTER DUCTED Technology
1
Indoor Heat Exchanger
Our new indoor heat exchangers have been designed to deliver maximum capacity output in a compact casing size. Through the use of cutting edge technologies, our indoor heat exchangers utilise Ø5mm copper pipes to ensure heat is removed from your home efficiently.
2
PMV Control
In automatic mode, Predicted Mean Vote control measures indoor and outdoor temperatures to calculate the ideal room temperature. As conditions change throughout the day, PMV Control gently adjusts your room temperature, maintaining an optimum balance between efficiency and comfort.
3
DC Fan Motor
Daikin indoor units are equipped with a high efficiency DC fan motor. By utilising high power permanent magnets instead of the induced magnetism of conventional AC motors, Daikin's DC motor can deliver significantly higher motor efficiency.
4
Sirocco Fan
Daikin's ducted units are fitted with light weight single injection moulded Sirocco Fans. These fans feature an aerodynamic fan blade design which reduces turbulence for a more efficient and quieter airflow delivery.
A full range of technical and support materials, including Engineering Data, Service and Installation Manuals are available via the Daikin Partner Portal
Ducted Systems
A Daikin ducted system provides discreet air conditioned comfort throughout your entire home. It can be installed in a new home or tailored to suit an existing one, and once installed, only the controller, the return air and discharge grilles are visible inside your home.