SLIM-LINE DUCTED
Available in

Reverse Cycle (Heating & Cooling)

Capacities

5.0kW, 5.8kW, 7.1kW, 10.0kW

Refrigerant

R410A

Efficiency Version
Designed specifically to suit installations where ceiling space is at a premium, our Slim-Line Ducted series has unparalleled flexibility and freedom of design.
Ideal for narrow ceiling spaces or under the floor, this ducted system meets the challenges of modern commercial and medium density apartment development.
All Daikin air conditioners exceed MEPS requirements, in line with Daikin's commitment to providing energy efficient, quiet, simple to use and reliable air conditioning solutions.
Key Features
It's the unique features of Daikin products that makes us the world leader.
Built-in condensate pump

DC Condensate pump is equipped as standard with a 850mm lift.

Flexible Return Air

Option of a rear or bottom suction return allows for greater installation flexibility.

Automatic Airflow Adjustment

Allows the fan speed to adjust automatically to suit your duct design for optimum airflow distribution.

Design Flexibility

DC fan with an static pressure of 150Pa and up to 75m (100 Class) of available pipe run to suit your design layout.

Slim-Line Indoor

Industry leading low profile design of 245mm height ensures clearance in most narrow roof spaces.

R22 Retrofit Capability

Provides a cost effective and convenient upgrade from an existing R22 ducted system whilst retaining the field piping.
Daikin's 5-year parts and labour warranty applies to split, multi split and ducted air conditioners purchased and installed in homes across Australia
SLIM-LINE DUCTED Technology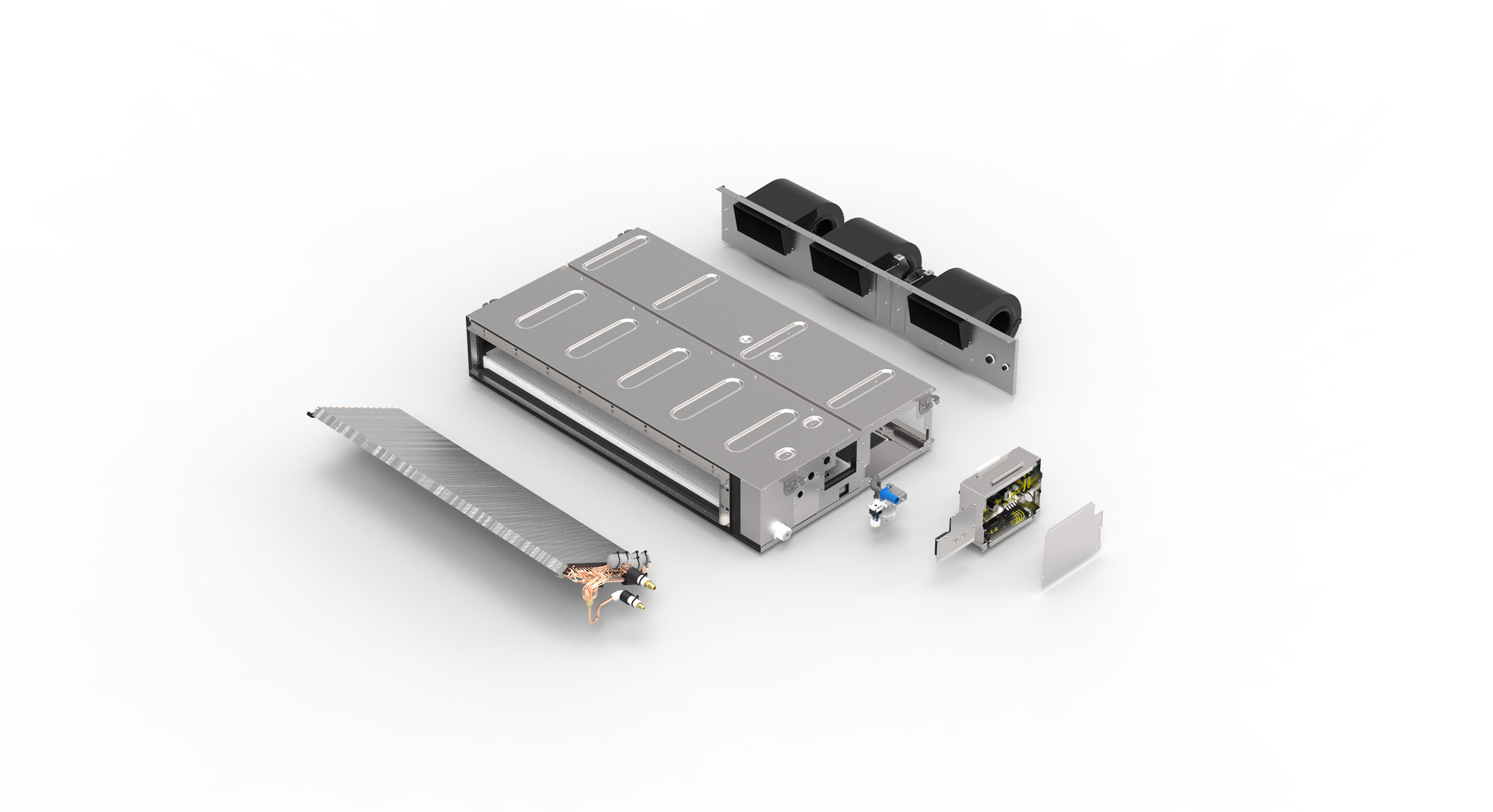 1
5mm Heat Exchanger Pipe
By adopting the use of 5mm heat exchanger pipe, Daikin's slim-line ducted was able to achieve an industry leading low profile height of 245mm.
2
Built-in Drain Pump
Condensate drain pump with a lift of up to 850mm is built into the unit without sacrifice to the unit's slim form factor.
3
Automatic Airflow Adjustment
Coupled with DC fan motor and smart control logic, fan speed can be automatically adjusted to suit your duct design for simplified commissioning.
4
DC Fan Motor
By utilising high power permanent magnets instead of induced magnetism of conventional AC motors, Daikin's DC motor can deliver significantly higher motor efficiency.
Technical Specifications
Available Options:
System:

Reverse Cycle

Capacities:

2.4kW, 3.4kW, 5.0kW, 6.0kW

Indoor Type:

Bulkhead

Power Supply:

1 Phase, 220-240, 50Hz

Refrigerant:

R410A
A full range of technical and support materials, including Engineering Data, Service and Installation Manuals are available via the Daikin Partner Portal
Ducted Systems
A Daikin ducted system provides discreet air conditioned comfort throughout your entire home. It can be installed in a new home or tailored to suit an existing one, and once installed, only the controller, the return air and discharge grilles are visible inside your home.