VRV IV Water Cooled
Available in

Heat Pump or Heat Recovery

Capacities

16kW-101kW

Refrigerant

R410A

Efficiency Version
Daikin VRV IV Water Cooled (VRV IV-W) is an individual air conditioning system that utilities water as a heat source. In this unique system, water is piped from a central cooling tower or boiler to the compact VRV IV-W unit (the equivalent of the outdoor unit/condenser in a conventional air conditioning system) and after heat exchange, refrigerant is piped from the VRV IV-W unit to each indoor unit.
This unique system allows this condenser to be placed inside the building, which greatly extends design flexibility and makes it easier to adapt to creative building facades where air cooled VRV solutions are not possible. Furthermore VRV IV-W can perform as a heat pump or heat recovery system to suit the requirements of most commercial applications.
Are you a Daikin Customer? Click any of the links below to access product information in our Partner Portal.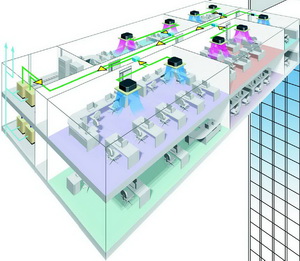 Unified heat pump or heat recovery (simultaneous operation) condensing unit
Variable Refrigerant Temperature "VRT" technology for improved energy efficiency and comfort
16kW, 22.4kW, 28.0kW & 33.5kW condenser modules available that may be combined for a maximum capacity of 101kW
Continuous operation for cold climates, delivering comfortable heating performance with no defrost
Long refrigerant lines of up to 120m (linear run) and a total of 300m
Plate Heat Exchanger can withstand a maximum water pressure up to 30kPA (for water design water flow rate of 1.6L/s)
Allows for a maximum connection ratio of 130%
Condensers are compact 780x550x1,000mm (WxDxH), lightweight - 146kg (16kW class) and can be double-stacked to minimize spatial requirements
The advanced self-diagnostic auto-check function detects malfunctions, immediately displaying the fault type and location so it can be resolved quickly and effectively
Condensing unit sound level as low as 49dB(A)
Connects to all advanced Daikin Control Solutions including I-Touch Controller and I-Touch Manager
Can be integrated to Open Protocol Building Management Systems via the Daikin BACnet® and LonWorks ® interfaces
Advanced features for easy installation and superior reliability
VRV IV-W features a pump interlock function, controlling the heat source pump in parallel
with the starting of the VRV IV-W unit, significantly simplifying operation and management of a
buildings air conditioning system.
VRV IV-W uses DIII-NET - Daikin's proprietary high speed transfer protocol.
DIII-NET means all indoor units, VRV IV-W units and control systems can share common wiring, making installation easier.
VRV IV-W can

also

be easily connected to existing third party BMS systems

via Daikin DIII Net.

VRV IV-W includes an auto address setting function and check function to detect and flag wiring and piping connection errors, for easier installation.
Water piping goes only to the VRV IV-W unit, with refrigerant piping run in occupied spaces. This means there is virtually no risk of water leakage or corrosion damaging interior fit out.
Centralised interlocking function
VRV IV-W allows centralised interlocking input via an external control adaptor (DTA104A62).
By using one external control adaptor circuit board, centralised interlocking input to multiple units within the same water system is possible.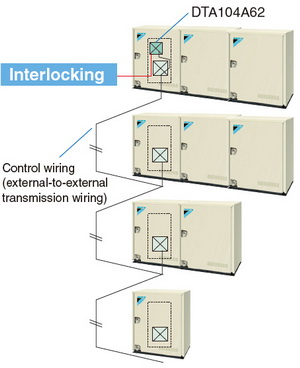 Easily Responds to Simultaneous Heating and Cooling Needs
By adding suction gas piping and a BS unit (sold separately), simultaneous heating and cooling operation can be provided by a single system.
Standard System
(Heat Pump)

Heat Recovery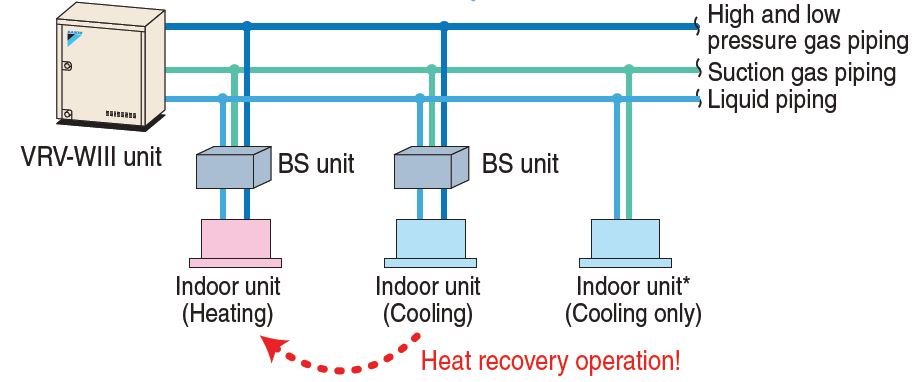 * For indoor units used for cooling only (do not connect to BS unit when using for heat recovery), total capacity index must be 50% or less than the capacity index of the outside units.
Water-Side Infrastructure & Components
A water loop system is routed around the building, either vertically or horizontally.
Heat Injection (Boilers) and Rejection (Cooling Tower or Dry Coolers) are required to ensure that the water loop remains between the required design conditions of 10-45°C.
VRV IV-W condensers are connected to the water loop and the connecting refrigerant circuit serves indoor units the same as any air cooled VRV system.
The following Water Side components are required:
Strainer (Mandatory)
Flow Switch or Differential Pressure Switch (Mandatory)
Pressure and temperature gauges
Circulation Pumps
All Daikin air conditioners exceed MEPS requirements, in line with Daikin's commitment to providing energy efficient, quiet, simple to use and reliable air conditioning solutions.